Cabins in the Woods!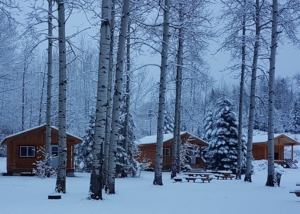 Northview, Poplar Ridge and The Moose Shed!
These clean and cozy cabins are ready for your summer vacation, fishing or hunting trip, or winter snowmobiling getaway!
Set amongst the trees and nature at Flood's Landing these charming open concept cabins provide a place for friends and families to create lasting memories, spend quality time together and get away from their busy timetables for some relaxation and fun.
Constructed from milled logs on our sawmill, the beams and posts are attractive on the interior as well as carrying through to the front porches, where you will enjoy sitting and watching the sunset at the end of a delightful day.
Each housekeeping cabin is equipped with:
24 hour generator power
Glass door woodstove
3 burner propane stovetop
Mini fridge
Electric and propane lights and plug in receptacles
All cooking utensils, pots, pans, dishes, cups and cutlery
Bedding, linens and pillows
Towels
Dish soap and tea towels
Propane barbecue
The cabins can accommodate up to 4 people, with 2 double beds.  Although there are no bathrooms in the cabins, there is a central washroom/shower available in the summer beside the office, and there are outdoor facilities as well.
We continue to make additions and enhancements to the camp this year, and we would love to invite you to follow our progress through our gallery of photos.  Please know that our goal is to have this building process completed in a timely manner to ensure the needs and wishes of our guests are met with complete satisfaction upon their arrival.
We look forward to booking your stay!