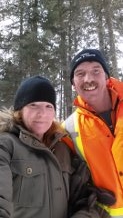 As your hosts we are committed to providing  you, our valued guests, the best possible experience during your stay with us at Flood's Landing!
In May 2012 we became the new owners of the camp, and here we are already about to embark on our 7th season of 2018!  Over the past 6 years many pages of our story here at Flood's Landing have been written, but many more are yet to be.  Together we are working towards our dream and we'd like to share our vision and accomplishments with you…
Located 20 minutes north of Cochrane, we are a drive to destination, with a remote wilderness feel as soon as you enter the gate.  Aside from the boundless fishing and hunting opportunities here and in the area, we also offer canoeing and kayaking excursions (a great way to catch a glimpse of a bald eagle perched upon a treetop or a moose taking a drink along the shoreline), memorable camping experiences, beautiful cabin accommodations, amazing snowmobile getaways, and a place to rejuvenate the body and mind amongst nature.  If you like the outdoors, you'll love it here!
We have many plans for the growth of our services from a seasonal rustic recreational area to a year round destination to welcome the many snowmobile enthusiasts that journey north to Cochrane each year.  Introducing new cabin accommodations that are warm, clean, cozy and charming, each crafted by us featuring milled square timber from our sawmill, cathedral ceilings and covered front porches.  In 2013 we began 2 cabins, had a septic bed installed and a well drilled, then winter set in early and the snow started!  With the first 2 cabins, "NorthView" and "Poplar Ridge" completed for the  opening of the season in 2014, we then began the 3rd new cabin, and also opened the summer washroom with a flush toilet and shower for our guests to use.  We added to our services of non-potable water fill-up for a fee.  Spring 2015 we completed the interior of the 3rd cabin, "The Moose Shed".  "Riverstone", our fourth cabin was completed as well and we moved into it in the fall, and that became our home on the hill with a view second to none!  In 2016 we expanded the campground in a new area of the property with 12 new seasonal campsites, and for the little ones we added a children's playground area!
Our to-do list was BIG for 2017 so keep an eye for some major additions this year!
The opening date for the 2018 season is May 16th!
We invite you to keep following our progress and see the changes taking place, and when you plan your vacation to NorthEastern Ontario, consider Flood's Landing as your destination, and "Discover the Beauty" for yourself!
Michael & Wendy Tanner